What could be more traditional for Thanksgiving than, um, baguettes? Nevertheless, that will be my contribution to the table this year. Here's an easy recipe kneaded
in a food processor
if you want to follow my lead. Best part: all of the work is done ahead of time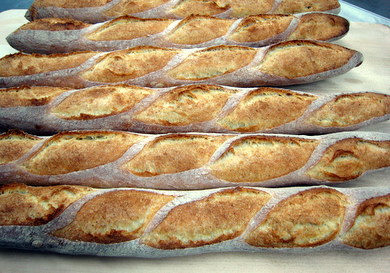 Ingredients
460 g all-purpose flour
40 g corn flour*
345 g ice-cold water
1 teas. instant yeast
10 g salt
*Note: this is corn flour, not corn meal, and not masa harina. It's Easily obtainable from Bob's Red Mill in a grocery store, and it adds a creaminess to the dough, but if you don't have it on hand, increase flour to 500 g and decrease water to 340 g.
The day before baking, thoroughly mix all dry ingredients in a large bowl. Add water and mix until uniform. Transfer to a food processor and allow to rest, covered (a process called "autolyse") for about 15 minutes.

Process for 45 seconds or longer, until a ball forms and starting flying around the processor bowl. Return the dough to the bowl you started with and cover tightly with oil-misted plastic wrap. The dough will seem a little wet – this is normal, and is what gives you those nice air holes.

Place in refrigerate and allow to ferment overnight. -- OR -- ferment at room temperature for about 2 ½ hours.

Baking Day:

Remove dough from fridge and allow to warm in container for about 2 hours.

After 1 hour, place baking stone on middle shelf in oven. Place an old sheet pan or frying pan on bottom shelf. Preheat oven to its highest setting, usually 500-550 degrees F.

After 2 hours, divide dough into 4 equal pieces on lightly floured countertop.

Form each into a 3x5 inch rectangle, then fold into thirds, as folding a letter to go into an envelope. Fold once more, in half, and tightly seal the seam

Roll out to baguettes, to a length of about 12 inches. Remember, they have to fit on your stone. Take a piece of parchment paper or wax paper and place the bread between folds to hold the loaf shapes. Support at both ends. Cover with plastic and allow to rise about 30 minutes

Score loaves down the middle with a single-edged razor held at a 30-degree angle. Transfer loaves to a peel, and then to stone. Pour 1 cup water into the pan in the oven, taking care to protect your hand. If queasy about that, toss in the same amount of ice cubes instead

Reduce heat to 480 and bake until center registers 210 F, about 20-25 minutes. Cool on a rack.