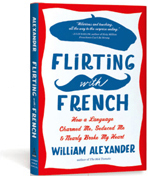 I'll get back to French and France in a moment, but first I want to share the exciting news that
Flirting with French
, written by the same idiot who authors this blog, has debuted on the New York Times bestseller list for Travel books at #11. This is undoubtedly due to the fact that I've stopped promoting it entirely.
Buy your holiday gift copies now
, and maybe we can nudge it up to #10, so I get the listing with the capsule description, instead of just the title in the Sunday Times Book Review! Let me help you out.
Click here to buy.